Careers Home
/ All Recruitment Programs
Our Internship
Programs
We are looking for bright individuals who are ready to make an impact. As a Check Point intern, you will have the opportunity to discover the world of cybersecurity, and reach a deeper, broader understanding of what in entails. We offer several internship programs in marketing, sales, finance, or software security. If you are seeking a firsthand experience of working in a technology-driven culture, we have a position for you!
Student Program
for R&D Israel
Check Point is happy to offer a variety of student positions in our R&D organization. After graduating, most students become full time employees in their respective groups in R&D.
Check Point Israel Summer
Internship Programs
Check Point promotes internship programs since we believe they are highly beneficial for both the interns and the company. We offer high school students paid summer internships, in which they have an opportunity to get real-life experience of working in a high-tech company. In addition, interns are a great source of new ideas and different approaches to problem solving, while assisting in current projects and contributing to the productivity of our teams.
Recruitment Programs
Global Programs

Israel Programs

U.S. Programs
Global Programs
Now Available
Channel business development Specialist - Bangalore, India
Main responsibilities
Training, mentoring, and motivating channel partners in the assigned territory
Generating additional demand through partner events
Studying the market for newer trends and reporting the same to the management, monitoring pricing policies
Training and mentoring CP Channel Account Managers and fostering relationships between channel partners and sellers.
Build revenue and non-revenue business plans with Focus Partners, including marketing activities to drive incremental sales pipeline and revenues.
Manage sales activities with partners to achieve revenue objectives and maintain sales records and reports
Perform regular business reviews and recommend improvements
Resolve partner related issues and sales conflicts in a timely fashion
Israel Programs
Now Available
Order Management Coordinator - April 2021
Main responsibilities
Receiving and processing orders for Check Point products using SAP-ERP system while making sure business guidelines are followed.
Investigate order discrepancies.
Back office support for distributors around the world in ordering and licensing issues.
Coordinate with other Check Point departments in Israel and abroad.
Now Available
Technical Support Engineer - Entry Level
Main responsibilities
Get experience with the security products of the leading vendor in the Cyber Security industry.
Challenge yourself on daily basis with complex, technical issues.
Work with the biggest Enterprise IT departments around the world.
Join a team of motivated, fun and creative minds.
Build a long-term career at Check Point with multiple options for future growth.
The training materials will include:
Networking
Operating Systems
Check Point's leading products
Professional tools and methodologies
In depth design and troubleshooting training for selected products & features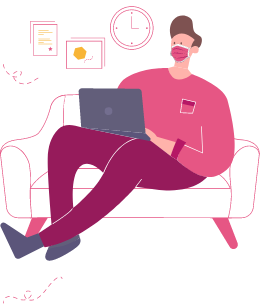 Soon Available